a22ea94ba480d49c64650455fb32759e
a22ea94ba480d49c64650455fb32759e
Our first food cart - Bar King Bun
Early 2016, my son just came back from Germany and wanted to open a food truck business in the Philippines. I agreed to help him. Initially we called it Bar King Bun and we built two carts. One of them was bunked at "Bunk" and the other one in front of Heckle & Jeckle.
Business was slow and a lot of work but we pushed on. We had to close at Bunk and tried other places, food courts etc, but without much success. The other cart though was doing good business.
Then came a new administration with the agenda to clear all sidewalks in Manila and we had to close our cart in front of H&J as well. Luckily we found a new home at the Legaspi Sunday Market but our concept didn't seem to work well with the customers there. By then my son has given up and chef Robert Lilja joined us with some ideas of very fancy street food. We have New Zealand mussels in white wine sauce, Danish Skagen (hot dog with shrimp salad topping) and other delicious treats. Again it didn't work.
My wife Nena and I pushed on. We changed the name and concept to Currywurst Meister and focused on making Currywurst, the # 1 German street food. It worked.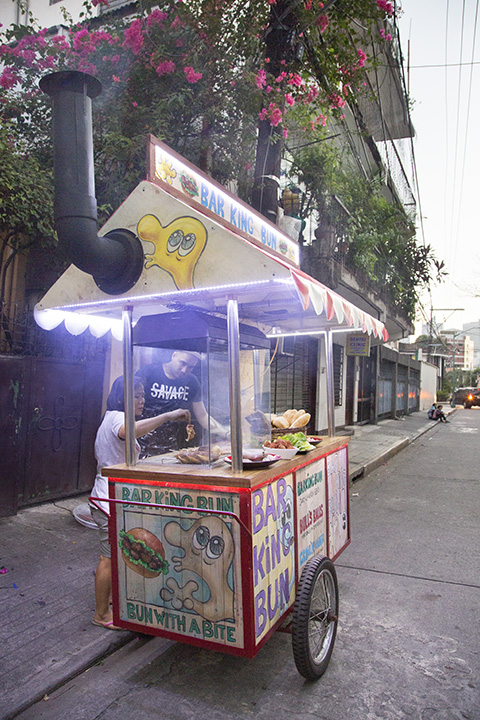 One of our Bar King Bun food carts in front of our house.
The re-designed Currywurst Meister food cart.
I realized that we were paying way too much for our supplies. Our margins could have been bigger if we could make some of that items ourselves. I sat down in front of youtube and started to learn anything I could about making buns, pretzels, sausages, currywurst sauce and more. At the same time I experimented relentlessly in our kitchen. Sometimes with success, most often catastrophic failure. But I kept on trying and trying. Soon I was able to bake some decent pretzels and buns and make really nice  sausages. 
It worked well. people liked our food. Maybe too well. Somebody didn't like the idea and we were kicked out of Legaspi Market. 
By then I already started to post on Facebook and we were selling quite well online. Actually we were selling better than through our carts. So it came as a bit of relieve since preparing the food, setting up the cart, selling, packing up again was a lot of work.
So online / facebook it was. Our customer base grew, the variety of breads and sausages grew and grew. We had then another opportunity to sell at the Alabang Saturday Market, That turned out to be our best market so far. 
Then Covid struck 
It was of course terrible for everyone, with the exception, we were the only one able to deliver food. My wife got covid and I was all alone. Baking, making sausages, pack orders and have them delivered. We had so many orders that we were booked up to 5 days in advance. 
Since then Currywurst Meister has steadily grown. It is known around Manila for its freshly baked delicious breads and tasty all meat sausages. 
All authentic, all artisinal all delicious